Have you visited the
ShowingTime Resources
page lately? If not, you're missing out! The Resources page is a great place to find information that you can use to help grow your business. Whether you're an experienced ShowingTime user looking for a refresher or you're new to ShowingTime, the Resources page is your source for insight into all things related to showing and market stats.
We believe that the Resources page is the perfect place to learn about what's new in the world of real estate. To help you find the information you seek in the format that's most convenient for you, we've outlined the four sections that make up our Resources page.
Guides and Checklists
"How can technology help me become a better agent?" "What kind of features do I need to consider when looking for an appointment service?" These are the sorts of questions that we tackle in-depth in the free guides and checklists we offer in this Guides and Checklists section. And make sure you keep an eye on out for additional guides to come shortly!
Webinars
ShowingTime webinars highlight key features of ShowingTime products and services with live demonstrations and answers to common questions users pose during the webinar. Of course, we realize that the timing for each live webinar may not necessarily always fit around your schedule. That's why we now share webinar recordings on the Resources page.
Latest Blogs
Our blogs cover everything from ShowingTime news and product updates, to industry trends and tips to help agents' marketing and lead generation efforts. The Resources page hosts links to the three most recent blogs – enough to pique your interest. For the full library of ShowingTime blogs, visit showingtime.com/blog.
---
Tip: Did you know that you can sign up to receive the latest ShowingTime blogs in your inbox? Enter your email address to sign up for the ShowingTime blog digest and each week you'll receive an update with tips, news and insight – it's that easy.
---
Online Training Resources
Each ShowingTime service offers a host of features. While ShowingTime developers are always working to ensure that each user experience is intuitive and accessible with many features available, it's likely that some users will have a question or two before mastering a feature. Thankfully, ShowingTime provides ample online training documentation that can answer just about any question and solve just about any issue that may come up during regular use. Simply consult the Knowledge Base that corresponds with the product you're inquiring about – ShowingTime for the MLS, ShowingTime Appointment Center, ShowingTime Front Desk or MarketView Broker – and you'll find what you need in no time.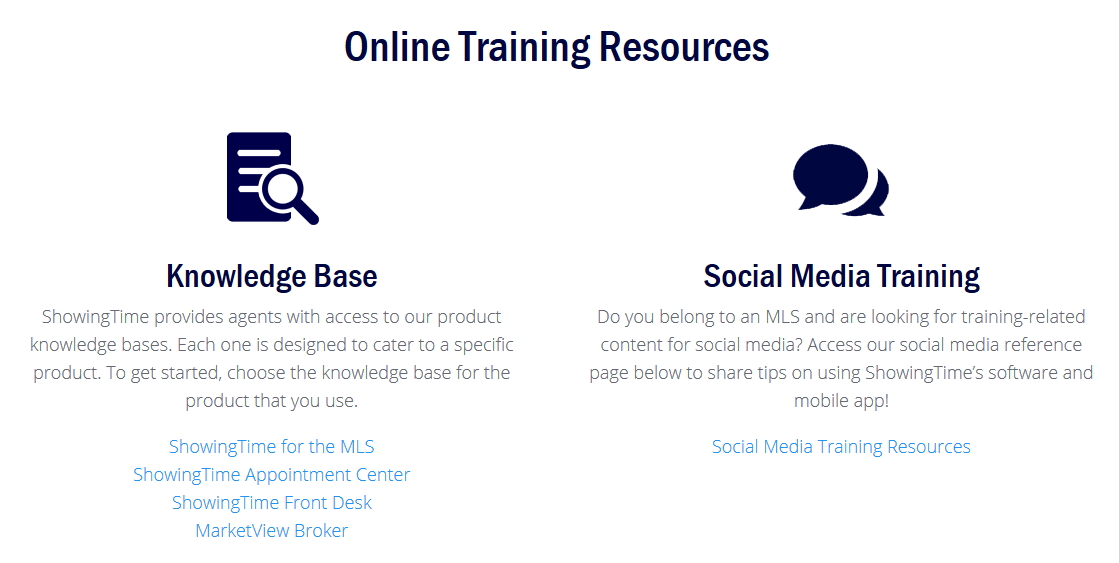 Looking for more?
Have you come upon an issue that isn't addressed in the resources above? Not a problem! ShowingTime's support staff are available to answer any question, seven days a week, by phone, email or live chat. To access contact information and the hours staff are available, click here.
---
The ShowingTime sales team is also a great resource for any question you might have about how ShowingTime solutions can be used to improve efficiency, save time and money, recruit top agents or handle other common needs. Click the button below to reach out to the sales team and discuss your needs today.